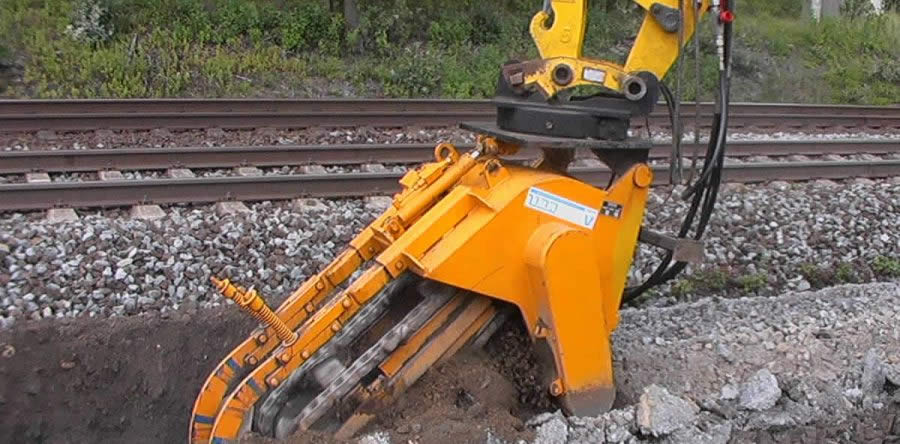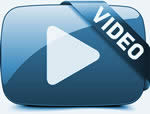 trench cutter for excavator GM 140 H

Among many other factors, the right tools and machines play a decisive role in Germany's digital expansion. In order to be able to supply the entire republic with fast Internet, it is necessary to lay large quantities of fiber optic cable underground. This is where the trench cutter for excavator GM 140 H comes into play. With this trench cutter for excavators, it is possible to cut suitable trenches for laying such cables quickly and with little effort. Furthermore, such a device helps to lay drainage pipes and other types of pipes.
The large operating radius of the trench cutter for excavator GM 140 H

An immense advantage of this trench cutter for excavators is that it can be combined with a hydraulic excavator. This gives it an immensely large radius of action. Due to the mobility and power of the excavator, many and deep trenches can be cut in a very short time with such an attachment. Obstacles are also no longer a problem, as the excavator can simply work over them. For these reasons this tiller is a very good alternative to self-propelled tiller. The mounting of the tiller proves to be very easy and yet it holds very stable on the excavator.
The trench cutter GM 140 H for excavator in use
Once the trench cutter GM 140 H is mounted on a hydraulic excavator, it can be used in almost all directions. This means, for example, that it can work parallel to the direction of travel. This is a clear advantage over classic variants that are towed by a tractor. In addition, the trenches created by this tiller are extremely narrow and precise. This means that no more soil is dug up than is absolutely necessary.
The trench cutter for excavator deposits the excavated material by means of two augers on both sides of the trench. This prevents the earth from sliding down again on its own, but it is still easy to fill the trench again after the cable has been laid. Because of this efficient way of working, the trench cutter GM 140 H is very popular with companies. It reduces the amount of work to a minimum and is therefore very economical.
Possible equipment variants of the trench cutter GM 140 H
When milling trenches, precision is essential. It is therefore advisable not to use just any tool, but one that is perfectly suited to the task at hand. In this context, it is very practical that the GM 140 H trencher is available with different types of equipment. For example, it is possible to use different cutter bars, each with its own dimensions. Small versions with 600 or 850 millimetres are available, as are larger versions with 1,200 or 1,500 millimetres.
Models with different chain widths between 125-500 millimetres on the first bar and 500 or 600 millimetres on the second bar are also available. Many users also rave about dinting machines with sole plates of this type of milling machine, which can adapt to the respective milling depth both mechanically and automatically. Depth control by laser is also possible, and a pipe-laying shaft and various cable reel holders are also part of the possible equipment of a trench cutter for excavators.
The trench cutter GM 140 H for your construction project
If you are planning a construction project and want to lay cables or pipes, for example, you should focus on quality when it comes to tools and machines. With high-quality machines, individual work steps can be carried out in a time-saving and cost-effective manner. The GM 140 H is very reliable as a trench cutter for excavators and offers the greatest possible flexibility. The trencher from Grabenmeister is compatible with many hydraulic excavators and can therefore be used for a variety of projects.
We will be happy to support you in your selection with our expertise and many years of experience. We know exactly which tiller is particularly suitable for which tasks and are happy to assist you in your search. This means that you get exactly the trench cutting machine for excavators that is suitable for your project and can work with it in a targeted and efficient manner.
Individual equipment on request!
Prerequisite – carrier unit: hydraulic excavator from 15 to, oil 160 – 250 l/min, 250-350 bar
Standard equipment: 1 worm, turntable hydr.
Milling beam depth: – 600, 850, 1200 and 1500 mm (side-shiftable)
chain width: 1 beam – 125, 150, 200, 250, 300, 350 and 400 mm
chain widths: 2 beams – 500 and 600 mm (width = both beams (75 mm part)
Carbon chisel chains
Mixing chains (chisel and knife)
Sole scraper with sole plate which mechanically/automatically adapts to the respective milling depth
1 screw (excavated material is deposited on the side)
Laser system manual or automatic
Pipe laying shaft and various cable reel holders

 

 

Drive: hydraulic via radial
piston motor

weight: 3.000 kg

length: 4.100 mm

width: 1.500 mm

height: 2.000 mm

(Weight and dimensions depend on
the respective equipment)